The Village of Farmersville is seeking a Service Technician II. The position involves performing daily operations of both Water and Wastewater departments, including testing and treatment of drinking water and wastewater in an NPDES Permit driven environment; assuring EPA regulations are met; operating heavy equipment; and various other tasks such as meter reading, lift station maintenance; sewer and water line installation and repairs; snow plowing; mowing; and general work in water, street, parks and sewer departments.
Preferred applicant will hold a valid Class B Commercial Driver's License, have a Class 1 Water/Waste Water Operators Certification or be able to obtain one within one year, and have experience operating heavy equipment. This position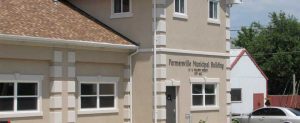 requires periods of a rotating on-call schedule. Salary is negotiable based on experience. Benefits include health insurance, life insurance, retirement, sick leave, and vacation.
To apply, please send resumes to cedds@farmersville.us with the Subject Line: resume for Service Tech II or send resume to the Village Office, 117 E Walnut St Farmersville, Ohio 45325.